I'm so sad right now! And when I tell you why you'll probably think it's silly, but I can't help myself! This morning I finished watching the last episode of the last season of Gilmore Girls… And I'm so emotional… Last September I was chatting with someone in my DMs about a show called Good Witch; a show that I really love. Said person than recommended me Gilmore Girls; she said it had a similar vibe. Well, I listened, started watching it, and now 6 months later I've finished all 7 seasons…
So for those of you who have been living under a rock; Gilmore Girls is a TV show that first aired in 2000 and ended in 2007. So it's an oldie. It's about a single mother and daughter battling there way through life in small-town Stars Hollow. I'm pretty sure you all know all of this, and if not; where have you been?! Not that I can judge since I only discovered this show last year. But I can now say that this is the best TV show I've ever watched and I'm pretty sure I'll rewatch it many many times. Honestly, I've seen some great shows over the years and I have a couple of favourites that I have rewatched a couple of times like Gossip Girls, The Vampire Diaries and Pretty Little Liars, but they just don't compare to Gilmore Girls. I'm really going to miss all these wonderful characters and this magical little town.
Fun fact; I just found out that Pretty Little Liars and Gilmore Girls were filmed on the same set… So Rosewood is basically Stars Hollow. Crazy! I so didn't see it.
If you haven't watched the show and you plan on watching it somewhere in the future I advise you to quit reading now… SPOILER ALERT. Yes, I need to share my feelings on this show and I can not do that without spoilers. Sorry, not sorry!
1. Luke & Lorelai are the best OTP and slow-burn romance ever!
From the first episode I shipped Luke & Lorelai and I'm so glad they ended up together, I can't even tell you. Those two are clearly made for each other. The writers have put them through a lot though… OMG, I hated it so much when they broke up at the end of season 6 and when Lorelai married Christopher in season 7, it was so wrong! And I felt so so sad for Luke. That is something I so did not agree with. I mean come one, it took them 4 seasons to finally realize they loved each other… to break em up like that, later on, was just cruel. I was so happy when Christopher was out of the picture again. Because there is no better couple than Luke & Lorelai, I'm sorry there just isn't.
"This thing we're doing here; me, you. I just want you to know I'm in, I'm all in"

Luke Danes – Gilmore Girls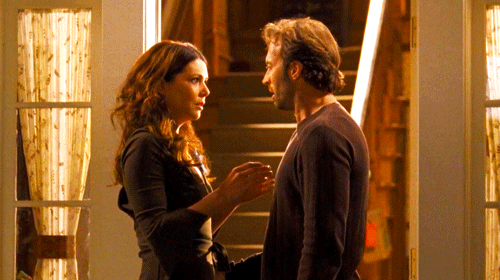 2. I totally ship Rori & Jess even though it's awkward
You know, at first, I was team Dean all the way. I hated it when Rory & Dean broke up. I totally disliked Jess, what a jerk. But he grew on me, and now I've seen it all I think Jess was the best match for Rory. Yes, he was a bad boy and he was a total jerk sometimes, but I loved him regardless. And he turned out to be a really nice guy. I kinda wish they would have ended up together, even though that's a bit awkward considering the whole Jess being Luke's nephew thing…
3. All the odd characters of Stars Hollow…
Stars Hollow may be the strangest but most wonderful town. A town full of lunatics, in the good sense of the word. I mean come on; Taylor, Kirk, Miss Patty, Babette… they are all sorts of crazy, but I love them. They made this show so funny. All the town meetings, Kirks crazy ideas and all the 'businesses' he started, and all the gossiping Babette and Miss Patty do. Gotta love it!
4. The insufferable but deep down lovely Emily & Richard
OMG Emily & Richard are the worst! Who could blame Lorelai for getting out of there? But at the same time, these people are amazing and they mean well. This show just wouldn't be the same without them in it. All those Friday night dinners, just the best! Oh, and let's not forget that time Emily needed to be picked up from jail; priceless. And when Richard went in cahoots with Rory and scared the crap out of Logan.
5. The weirdest friend ever Paris Geller
Paris Geller… she's truly something! Sometimes you hate her, sometimes you love her. But one thing can be said for sure, she's one of a kind! In the first seasons, I didn't think she'd be such a big character in the show, but I'm actually kinda glad she was.
6. ALL THE AUTUMN FEELS!
This show totally gives me Autumnal vibes and I love it! I'm such an Autumn girl. I know it takes place in all seasons, but still. I guess it's just because this show is like a big warm blanket that hugs you. And when it actually is Autumn in the show, they do it well. Oh, and of course there's the intro…
I'm going to leave you there… I could go on and on about this show and there are so many feelings I have about it that I didn't voice in this blogpost, but you know, I gotta end it somewhere. So there you go… My favourite TV show in the whole wide world. I'm going to go and watch the revival now. If you haven't watched Gilmore Girls, go and do it! And if you have, please talk to me about it! Oh, and I hope one day I will find the Luke to my Lorelai <3